Sunday, November 22, 2009
It's the best shopping day of the year, and we've got some fantastic sales going on! Be sure to
VISIT
.
Posted by

Cyndi146
at 8:08 AM
1 comment:

Saturday, November 7, 2009
And welcome to my stop! You should be arriving from
BRITT'S BLOG
. That's assuming you're on this blog train by design. If you happened upon it by accident... then LUCKY YOU! You've just hit the motherlode! There are some awesome goodies along the way, so be sure to stop at every site. We've each made a little treat for you to coordinate with the amazing collab ScrapMatters is offering for
FREE with at $15 purchase
this weekend.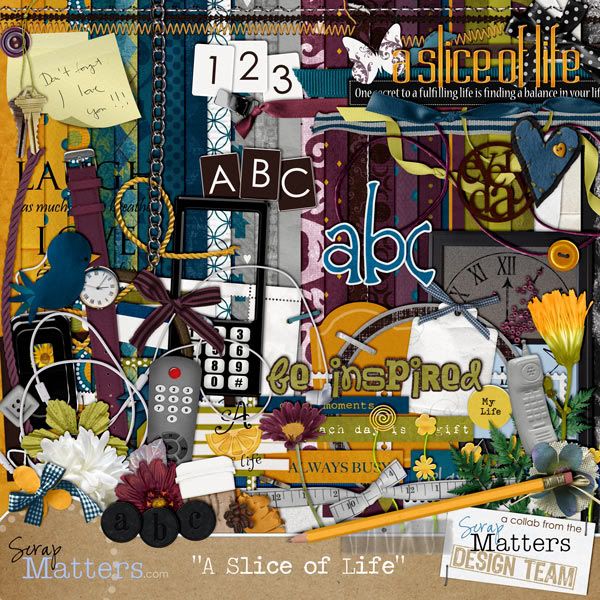 The ScrapMatters designers are the BEST and they've done an incredible job on this kit. And to think you can get it for free with just a $15 purchase. Which won't be a bit hard this weekend, cuz they've all got some amazing GRAB BAGS in the shop. Not to mention the fabulous SALE. Go pick some up
HERE!!
Come check out the
FORUM
for some fun games and prizes. We've even got 2 extra Speed Scraps today. Check
HERE
for the game list.
So on to your free gift. I've made some WA for you.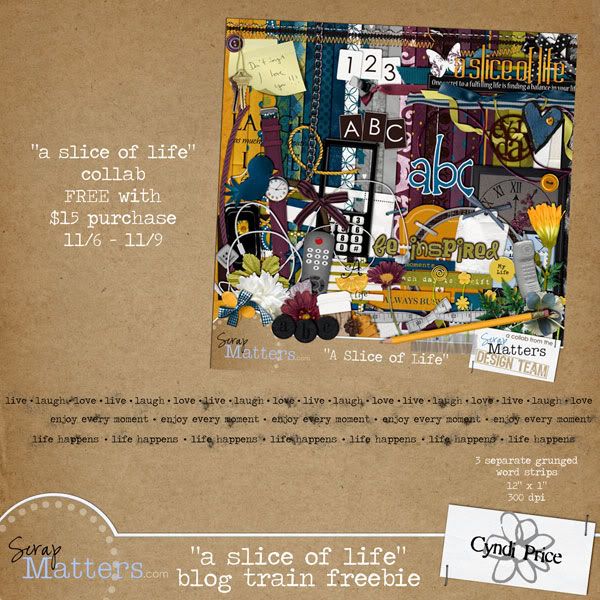 Hope you like them. ****Download expired. But you can pick up in an element pack in the ScrapMatters store****
And be sure to make every stop. You won't want to miss anything. Now onto SARAH'S BLOG for another awesome treat. If you ever get lost or derailed, just pop back on over to the SCRAPMATTER'S BLOG for a master list. Happy Scrapping! And Happy DSD!!!

Posted by

Cyndi146
at 6:32 AM
10 comments:

Sunday, November 1, 2009
So much fun planned for this weekend. I'll even be a part of the blog train with a freebie. I know, amazing, huh? Be sure to check back.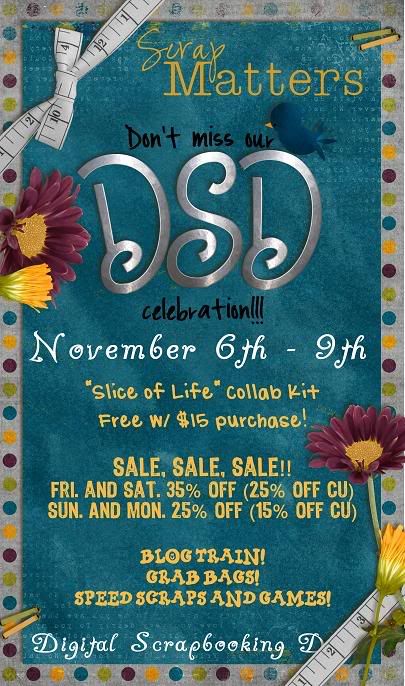 Posted by

Cyndi146
at 7:00 PM
No comments: